Details
Details
Ingredient apple seed extract dry cytoplasm
Efficacy moisturizing, moisturizing, whitening, shrink pores, lift firming, sensitive resistance, anti-wrinkle, carry bright color of skin, activating moisturizing, anti-aging, purify detoxification, thin face
Apple stem cells concentrate 3 ml
Main efficacy tight anti-wrinkle anti-aging
Principle of apple stem cells activate the skin
(1) Repair damaged cells, in the process of life activity, air pollution and bad food, pigment, preservative), cause the imbalance of internal and external environment, human body accumulate large amounts of free radical cell membranes, and damaged cells, inflammatory reaction, resulting in a decline in organ function.Apple stem cells enter the human body to detect damaged cells, these cells into nutrition factor (targeted) protein, repair the damaged cells.
(2) Activate the dormant cells: apple stem cells enter the body through movement impetus sleepy epidermal stem cells, after activation.Human body 90% - 95% of epidermal stem cells are dormant, 1 epidermal stem cells can be divided to generate 4 million living cells.
(3) Promote cells regeneration, stem cells under physiological conditions in a stationary state, only after receiving mobilization signal launch its self-renewal and differentiation mechanism, update aging cells and repair damaged tissue death.While apple stem cell mobilization is the best of the body's cells.
Applicable people
1, Black skin yellow, bleak
2, Skin dry and rough
3, Skin is flabby, lack of flexibility
4, Chloasma, sunburn, etc of the crowd
5, Acne, acne, acne
6, Want to long-term care, for people with new skin
Directions for use:
Home care
Open the Swiss apple stem cell concentrate after clean face, press 3-6 drops of the essence in the palm and then apply to the face to massage directly with your fingertips, gently by the above looped about 5-8 minutes after being essence safety infiltration is complete
Professional salon used ultrasound to import
Concentrate on the clean face after open the Swiss apple stem cells, 5-8 drops essence on the surface, with essence of ultrasonic instrument will import an interface by gently looped over about 5-8 minutes after being essence safety infiltration is complete. Professional salon micro needle into use
Open the Swiss apple stem cell concentrate after clean face, press 5 to 8 drops of essence on the surface, with micro needle essence into the interface by gently looped over about 10 to 15 minutes after being essence safety infiltration is complete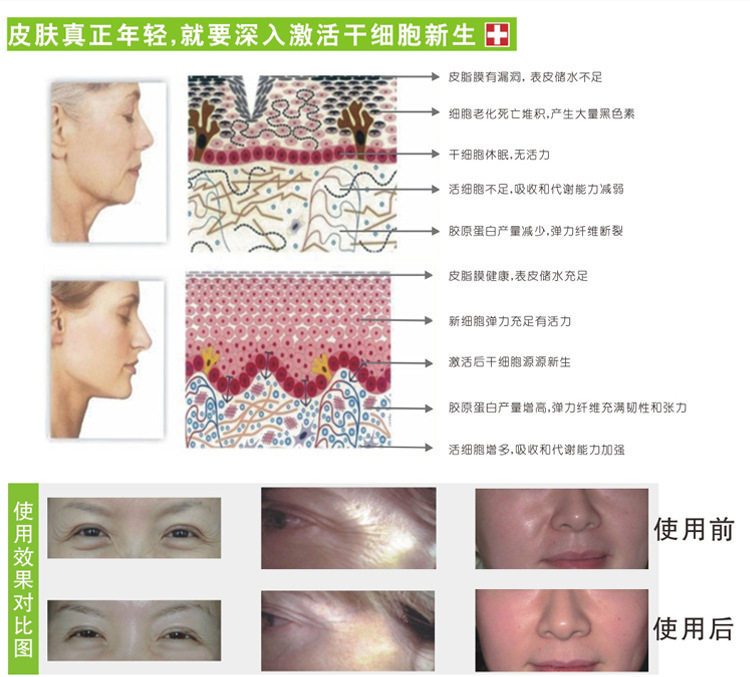 Reviews
Tags